Daily used sentences are very important for daily conversation. Daily used sentences are backbone of spoken English. In modern world English is very much important to learn and to speak. English sentences are handy for daily speaking. For Hindi students roman translation is given also. We have to practice these daily used sentences with Urdu and Hindi translation. Daily used sentences will be effective for both teachers and students also.
Let us talk to kill the time.
آؤ وقت گزارنے کے لیے باتیں کریں۔
Aao wqt guzarne k liye batain krain.
Such are the ways of the world.
دنیا میں ایسا ہی ہوتا آیا ہے۔
Dnya main aisa hi hota aya hy.
I won him over to my side.
میں نے اسے اپنی طرف کر لیا۔
Maine usay apni trf kr liya.
Political leader delivered a forceful speech.
ایک سیاسی رہنما نے دھواں دار تقریر کی۔
Aik siyasi rehnuma ne duhwan dhaar tqreer ki.
The judge declared the court adjourned.
جج نے عدالت برخاست کردی۔
Juj ne adalat barkhast kr di.
Tap is not working well.
نل ٹھیک کام نہیں کررہا۔
Nal thek kaam nhi kr rha.
The cow butted me.
گاۓ نے مجھے سینگ مارا۔
Gaye ne mje seeng mara.
He is groping in the dark.
وہ اندھیرے میں ٹٹول رہا ہے۔
Who andhairay main tatool rha hy.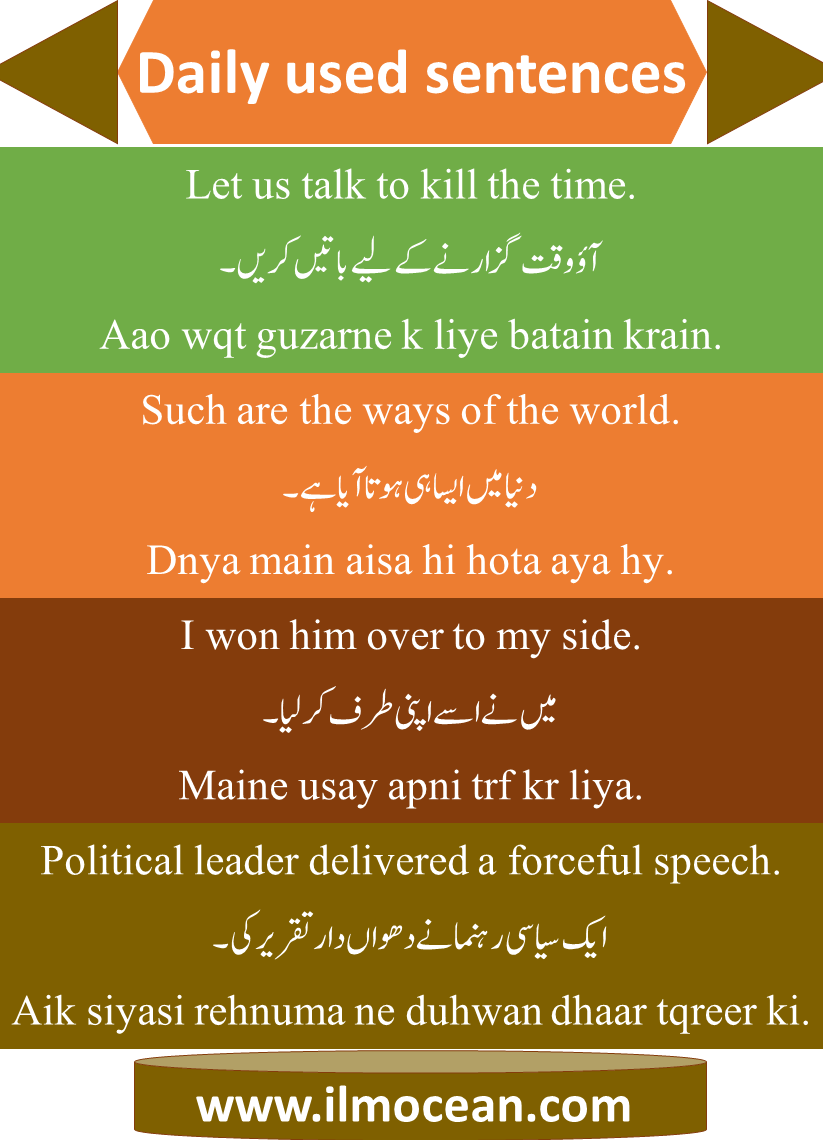 What brought you here?
آئیے کیا کام ہے؟
Aiyen kya kaam hy?
He consults me in every matter.
وہ تمام معاملات میں مجھ سے مشورہ لیتاہے۔
Wo tmam mamlaat main mjse mashwra leta hy.
There is no other way.
اس کے سوا کوئ چارہ نہیں۔
Isk siwa koi chara nhi.
On hearing this, I felt relieved.
یہ سن کرمیری جان میں جان آئ۔
Ye sun k meri jan main jan aye.
We should try to get rid of them.
ہمں ان سےجان چھڑانا چاہئے۔
Hmain inse jan churana chahye.
Do not spit on the floor.
فرش پہ مت تھوکو۔
Frash pe mt thoko.
Do not remain so untidy.
اتنے میلے کچیلےمت رہو۔
Itne mailay kuchaile mt rho.
It is hearsay.
یہ سنی سنائ بات ہے۔
Ye suni sunai bat hy.
Aima is back-biter.
آئما چغل خورہے۔
Aima chughal khor hy.
You are a time server.
تم زمانہ سازہو۔
Tm zmana saaz ho.
He is a good for nothing fellow.
وہ نکما آدمی ہے۔
Wo nikma admi hy.
He is a genius.
وہ خداداد قابلیت کا مالک ہے۔
Wo khudadad qabliyet ka malik hy.
You are mere a peon.
تم محض ایک چپڑاسی ہو۔
Tm mehaz aik chuprasi ho.
He is a well-to-do person.
وہ کھاتاپیتا شخص ہے۔
Wo khata peeta shakhs hy.
I am sleepy.
مجھے نیند آرہی ہے۔
Mjhay neend a rhi hy.
Slavery is a great success.
غلامی بہت بری بلا ہے۔
Ghulami bht buri bla hai.
English is the language of the English.
انگریزی انگریزوں کی ذبان ہے۔
Angraizi angraizun ki zuban hy.
I am going out for a stroll.
میں ذراٹہلنے کے لیے باہر جا رہا ہوں۔
Main zra tehlnay k liye bahir ja rha hn.
I have come to consult you.
میں تم سے ایک مشورہ کرنے آیا ہوں۔
Main tmse aik mshwra krne aya hn.
God knows better.
خدا بہتر جانتا ہے۔
Khuda behtr janta hy.
They are not on the speaking terms with each other.
انکی آپس میں بول چال نہیں ہے۔
Unki apas main bol chaal nhi hy.
Just wait please, you will go after all.
ارے بھائ ذرا ٹھرئیے تو! آخرچلے جانا ہے۔
Are bahi zra thehriye to akhir chle jana hy.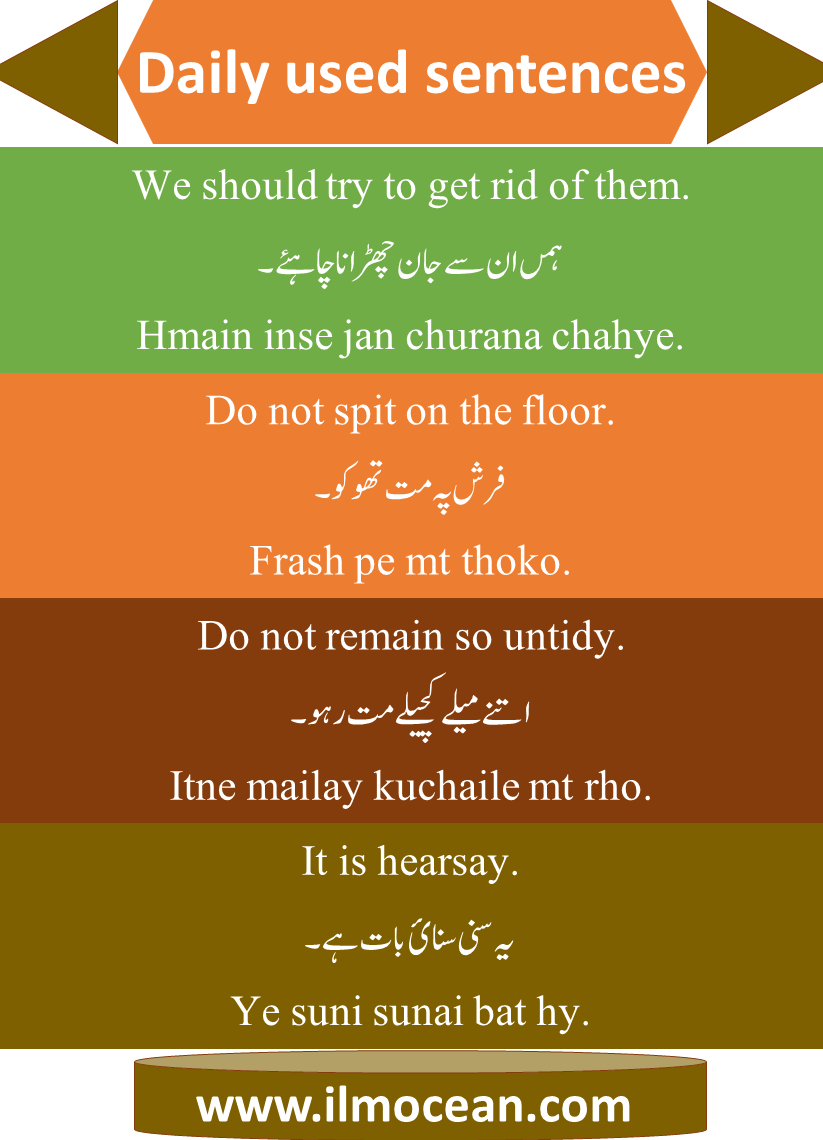 He let the cat out of the bag.
اسنے راز افشاں کر دیا۔
Usne raz afshan kr dia.
Some dine out.
کچھ لوگ گھر سے باہر کھانا کھاتے ہیں۔
Kch log ghr se bahir khana khaty hn.
Dead men tell no tales.
مردےراز فاش نہیں کرتے۔
Murday raz fash nhi krte.
You do not know the decency.
آپ تو آداب مجلس سے ناواقف ہو۔
Ap to adabe majlis se nawaqif ho.
You always take a deep draught.
تم ہمیشہ بڑاگھونٹ لیتے ہو۔
Tm hmaisha bra ghont letay ho.
This horse devours the way.
یہ گھوڑا بہت تیز ڈورتا ہے۔
Ye ghora bht taiz dorta hy.
He eats dirt.
وہ توہین چپ چاپ برداشت کر لیتا ہے۔
Wo toheen chup chap brdasht kr leta hy.
He writes broken English.
وہ ٹوٹی پھوٹی انگریزی بولتا ہے۔
Wo toti photi angrazi bolta hy.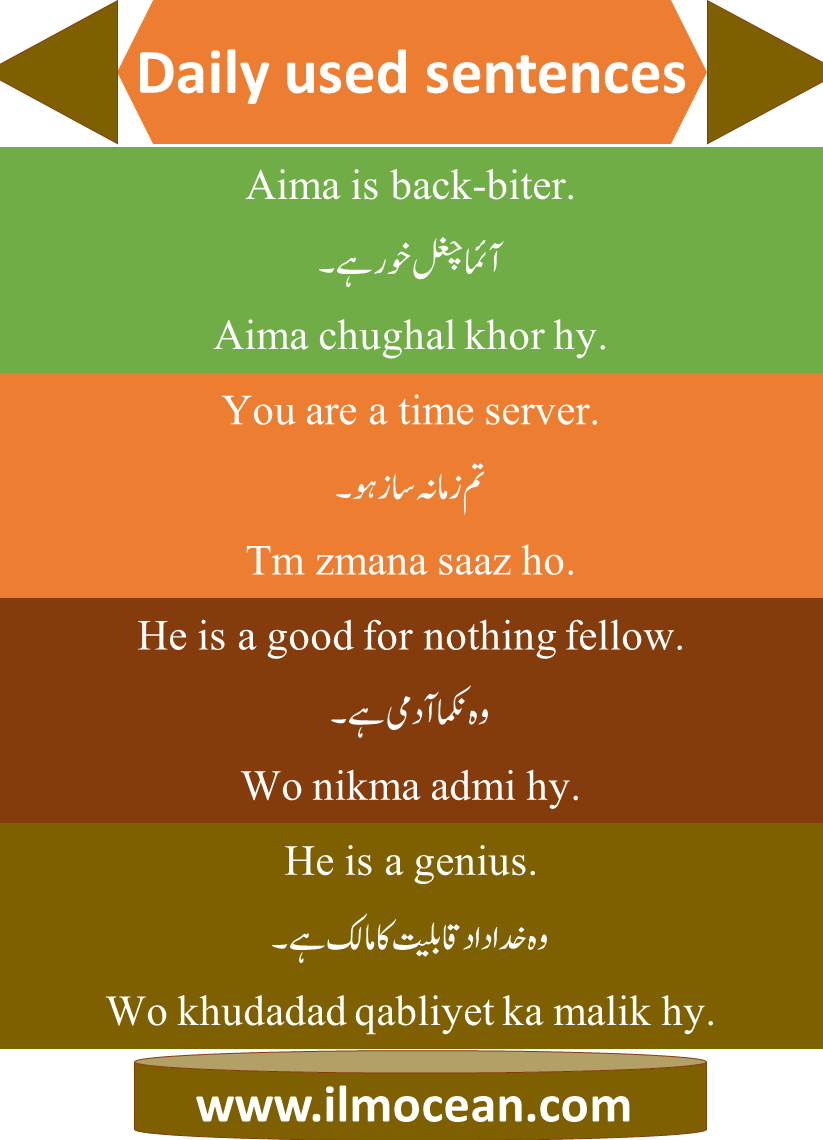 I am sorry to hear a curt reply from you.
مجھے آپکا روکھا جواب سن کے افسوس ہوا۔
Mjhy apka rokha jwab sun k afsos huwa.
His behavior is dictatorial.
اسکا رویہ تحکمانہ ہے۔
Uska rawya tahkmana hy.
He is in easy circumstances.
وہ خوش حال ہے۔
Wo khush haal hy.
He is a cock on his own.
وہ تیس مار خان ہے۔
Wo tees maar khan hy.
He has curtailed his expenses.
اس نے اپنے اخراجات کم کر دئے ہیں۔
Usne apne akhrajat km kr diye hn.
He has the defects of his qualities.
اسمیں خوبیاں بھی ہیں اور خامیاں بھی۔
Usmain khobian bi hn aor khamian bi.
I have had enough of him.
میں نے اسکا سب کچھ دیکھ لیا ہے۔
Maine uska sb kch daikh liya hy.
It makes no difference.
اس سے کوئ فرق نہیں پڑتا۔
Is se koi frq nhi prta.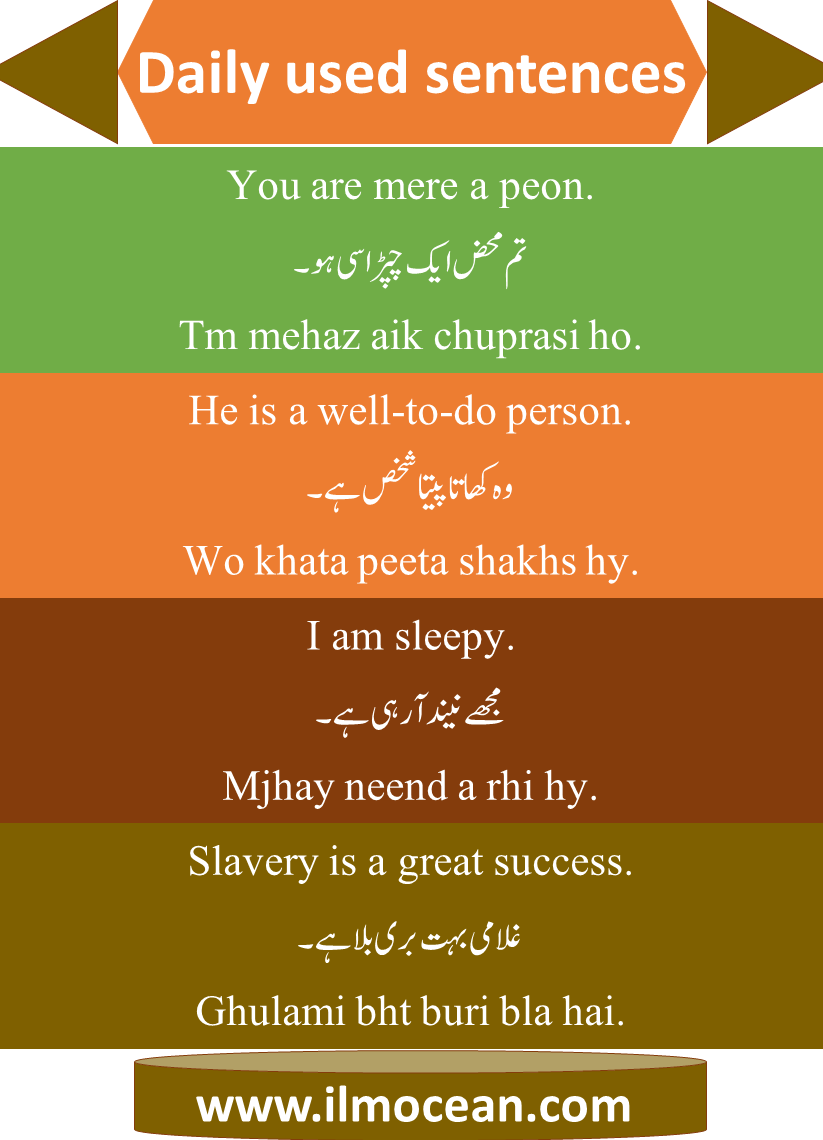 Let him go to the dogs, what to me!
اسے برباد ہونے دو مجھے کیا!
Use brbad hone do mje kya.
He was taken into custody.
وہ حراست میں لے لیا گیا۔
Wo hrast main le liya gya.
The pole wes erected on end.
کھمبا سیدھا گاڑدیا گیا۔
Khamba seedha gaar diya.
This is merely a day-dreaming.
یہ محض ایک خیالی پلاؤہے۔
Ye mehz aik khiyali pulao hy.
The patient is in delicate state.
مریض کی حالت نازک ہے۔
Mreez ki halat nazuk hy.
Dal is a standing dish with us.
ہمارے ہاں دال ہر روز پکتی ہے۔
Hmare haan daal roz pkti hy.
He is a very impatient boy.
یہ لڑکا بے حد گستاخ ہے۔
Ye lrka behd gustakh hy.
The girl was kneading.
لڑکی آٹا گوندھ رہی تھی۔
Lrki ata gondh rhi hy.
I am just killing time.
میں تو محض وقت کاٹ رہا ہوں۔
Main to mehaz wqt kat rha hn.
Don't intimidate me.
مجھے دھمکاؤ مت۔
Mjhe dhmkao mt.
The old man died intestate.
بوڑھا آدمی بغیر وصیت کے مر گیا۔
Brha admi bghair wsiyet k mr gya.
Are you going on foot or by train?
آپ پیدل جا رہے ہیں یا گاؑڑی سے؟
Ap paidal ja rhay hn ya gari se?
They walked for miles on end.
وہ لگاتارکئ میل چلتے رہے۔
Wo lga taar kai meel paidal chltay rhe.
He is light of foot/ He is fast.
وہ تیز رفتار ہے۔
Wo taiz rftaar hy.
He lost his way.
وہ اپنا راستہ بھول گیا۔
Wo apna rasta bhol gya.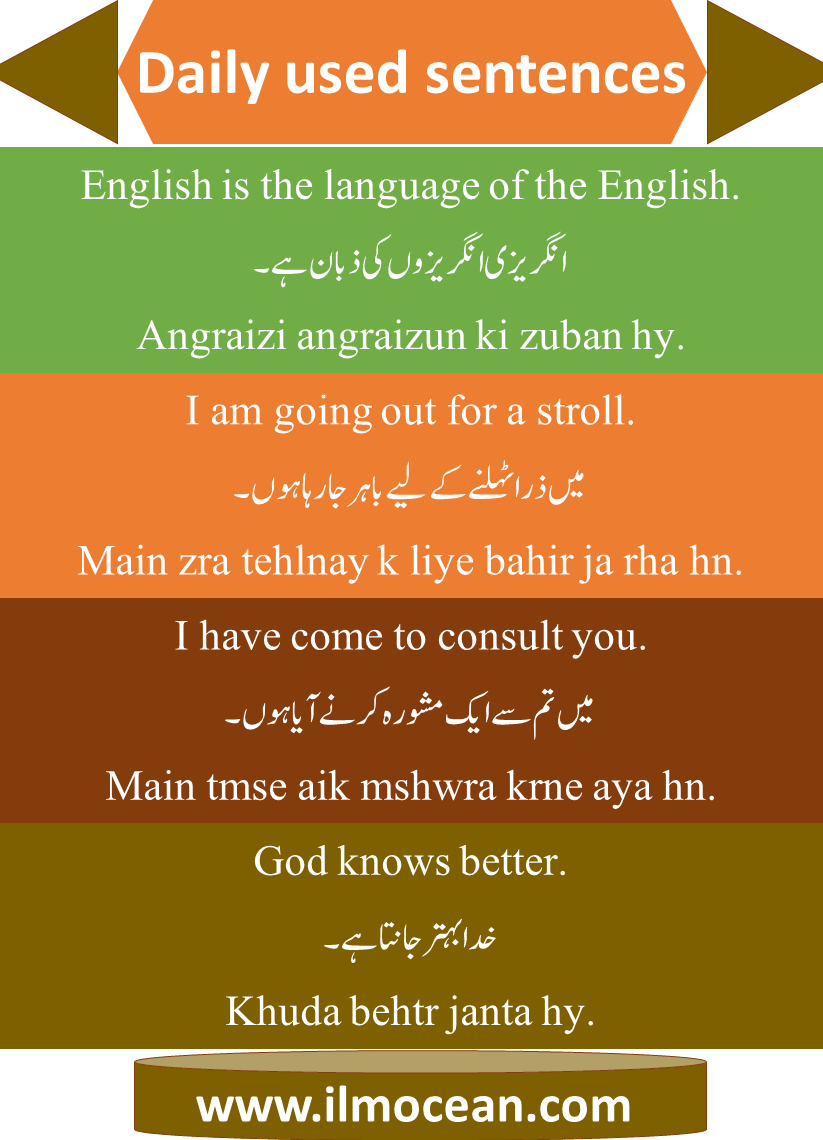 He went his way.
اس نے اپنا راستہ لیا۔
Usne apna rasta liya.
Where does this way lead to?
یہ راستہ کہاں جاتا ہے؟
Ye rasta kahan jata hy?
I have to go very far.
مجھے بہت دور جانا ہے۔
Mje bht dor jana hy.
Pump up the front wheel.
اگلے پہیے میں ہوا بھر دو۔
Agle pahye main hwa bhr do.
The food is cooked well.
کھانا اچھا پکا ہوا ہے۔
Khana acha pka hwa hy.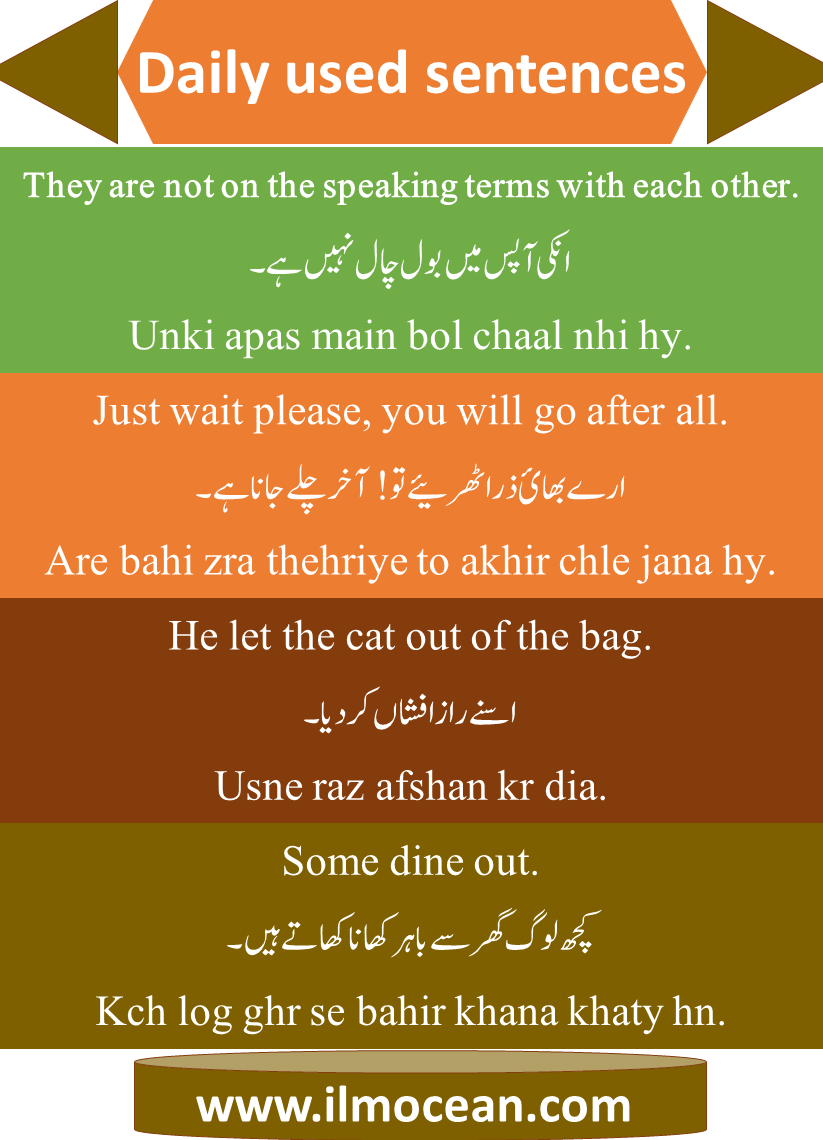 Download pdf here sentences PDF