Forms of Verb in English and Urdu. 1000 Verb Forms With Urdu Meanings Download PDF for beginners. Memorize the most commonly used  Three forms (1st 2nd 3rd) of verb with Urdu meaning for speaking English. 1000 Verb forms are quite enough to speak English for basic English learners. For the ease of Urdu speaking we have translated the verbs forms in Urdu, moreover the lesson is available in PDF for revision.
Verbs are considered the heart of English Grammar and they come with 3 forms. We need to learn to use them in different tenses. We have to understand it well which form of verb will be used in which tense. For your ease, we have translated 1000 Verbs into Urdu and also written their other forms. 1000 Forms of Verb in English and Urdu PDF Book is available to download.
These three Verb Forms are basic building blocks of English Grammar to learn English. Most importantly, these verbs forms are used when it comes to practice Tenses. Tense can never be learnt if you don't have command on all Three Forms. In this lesson, we will give almost 500 Verb Forms in English with Urdu Translation. You can also download all these verb forms in the form of PDF. Just go to the bottom of page and get PDF FOR FREE.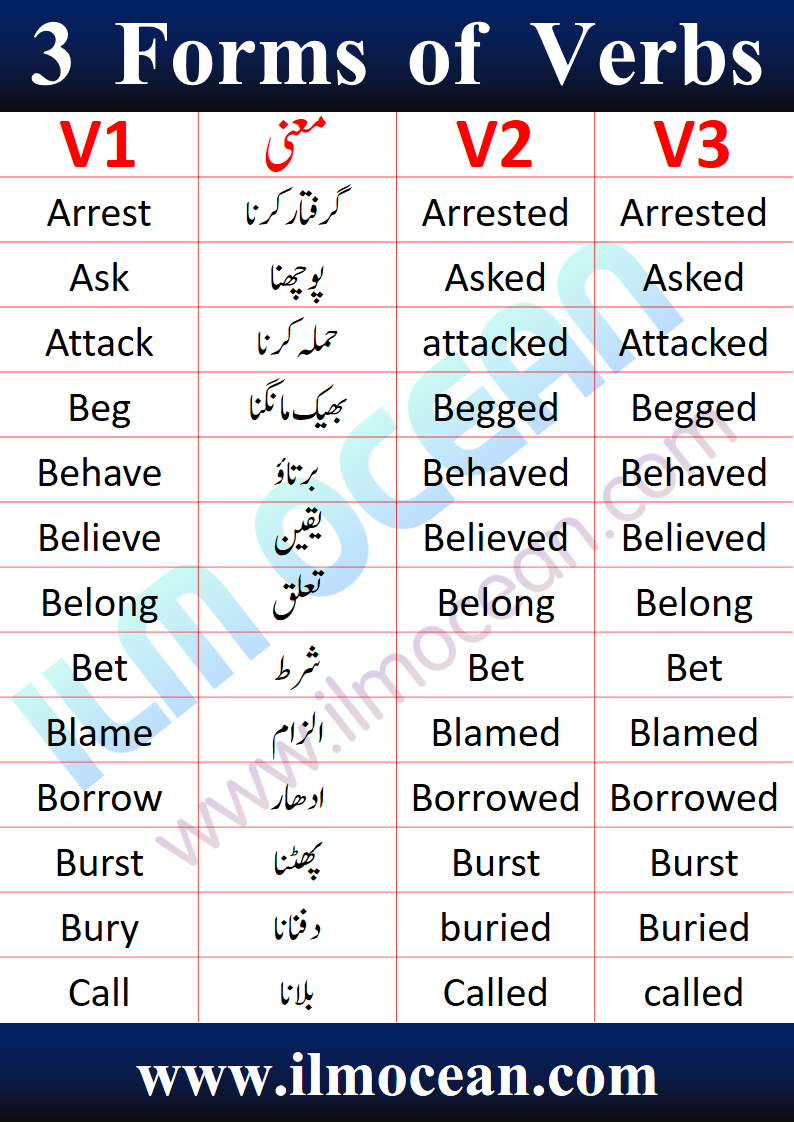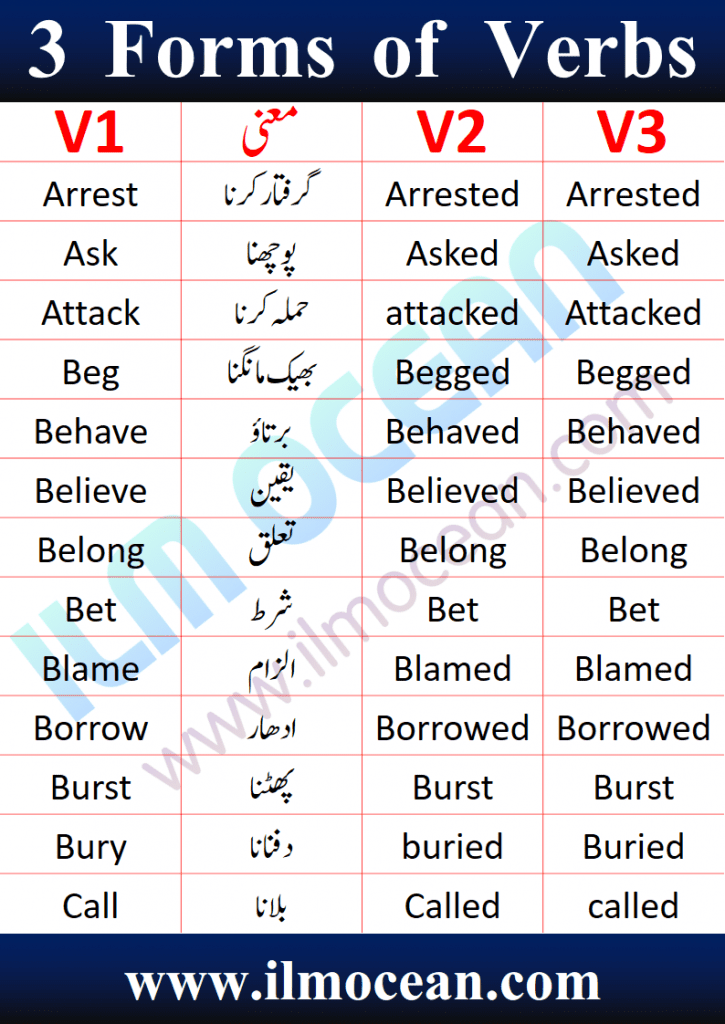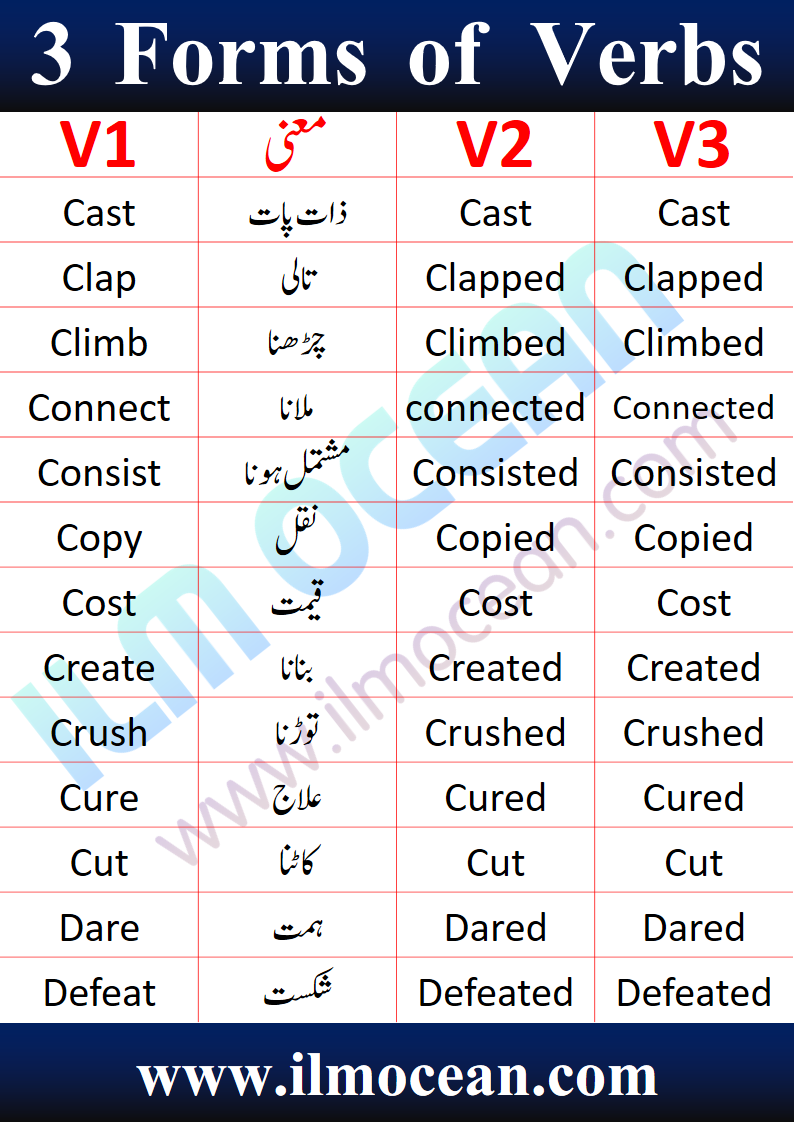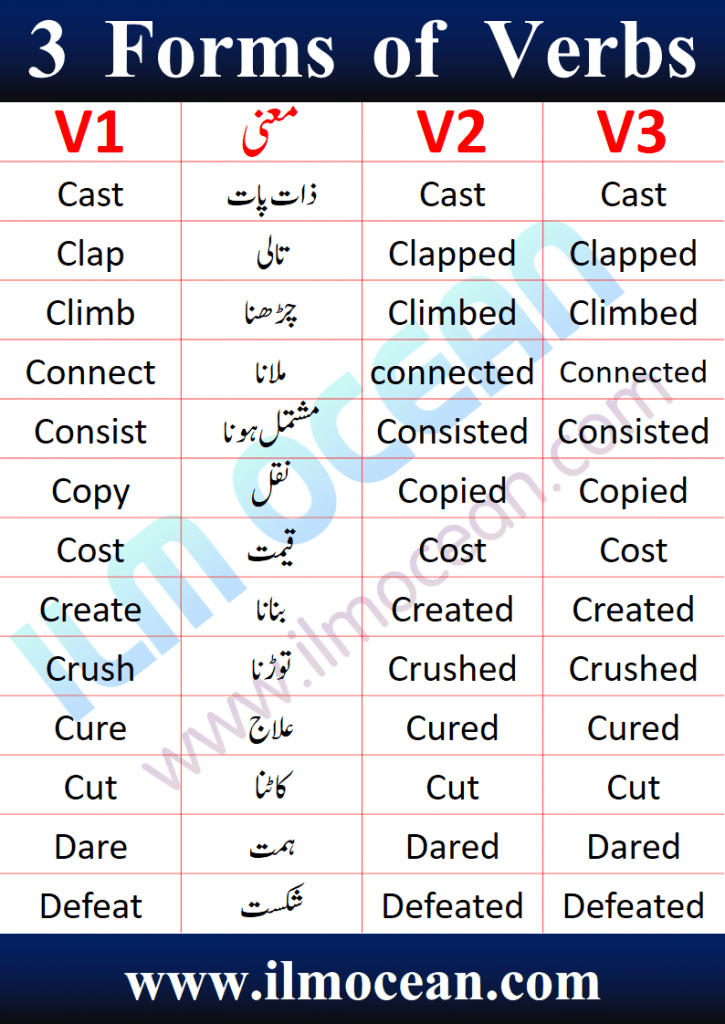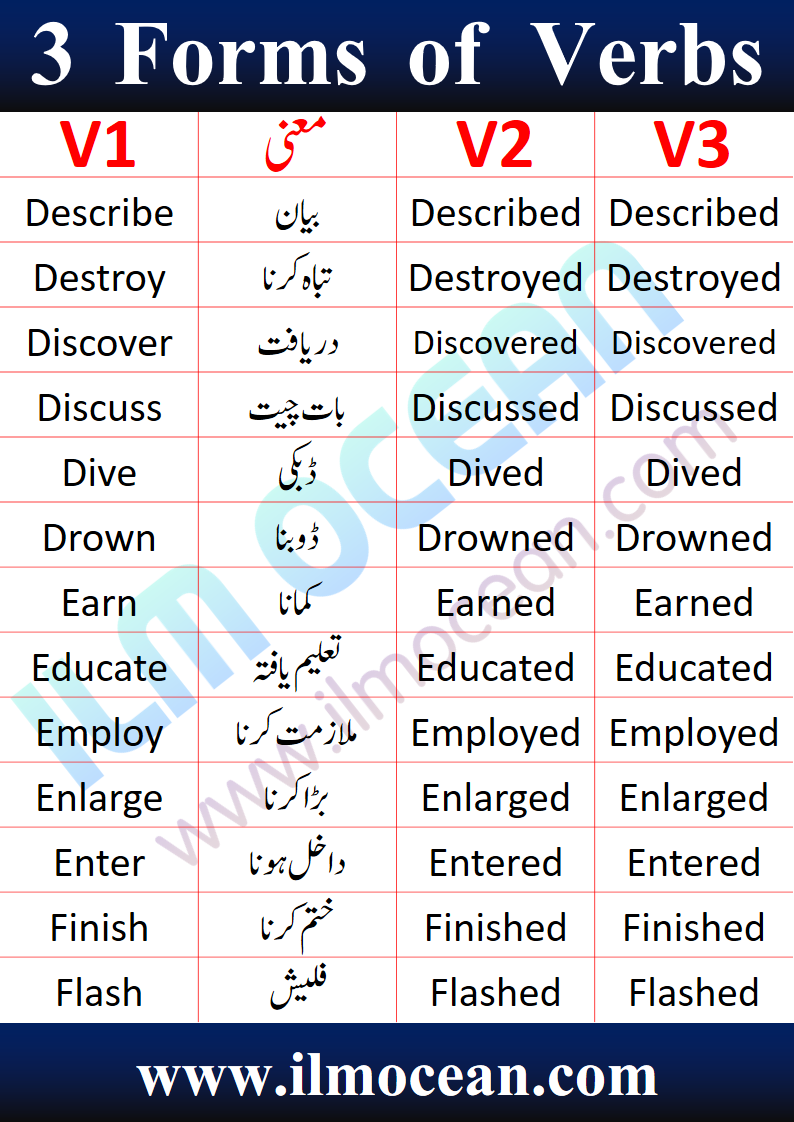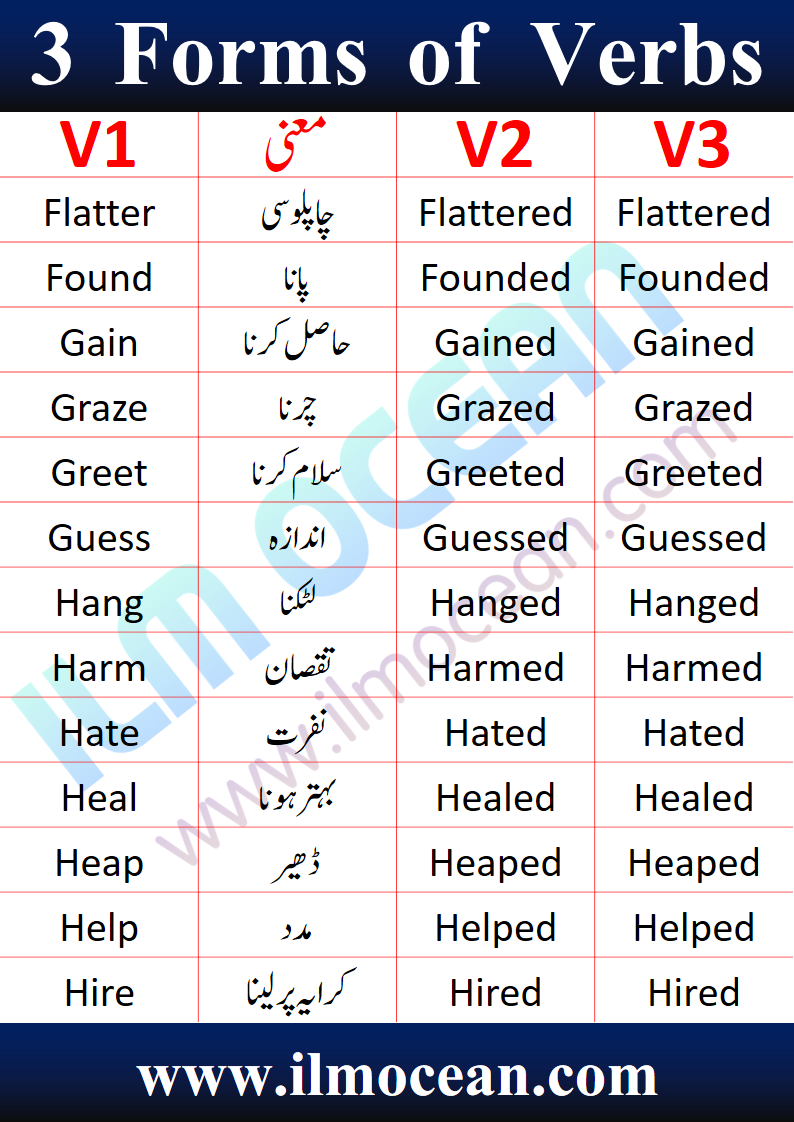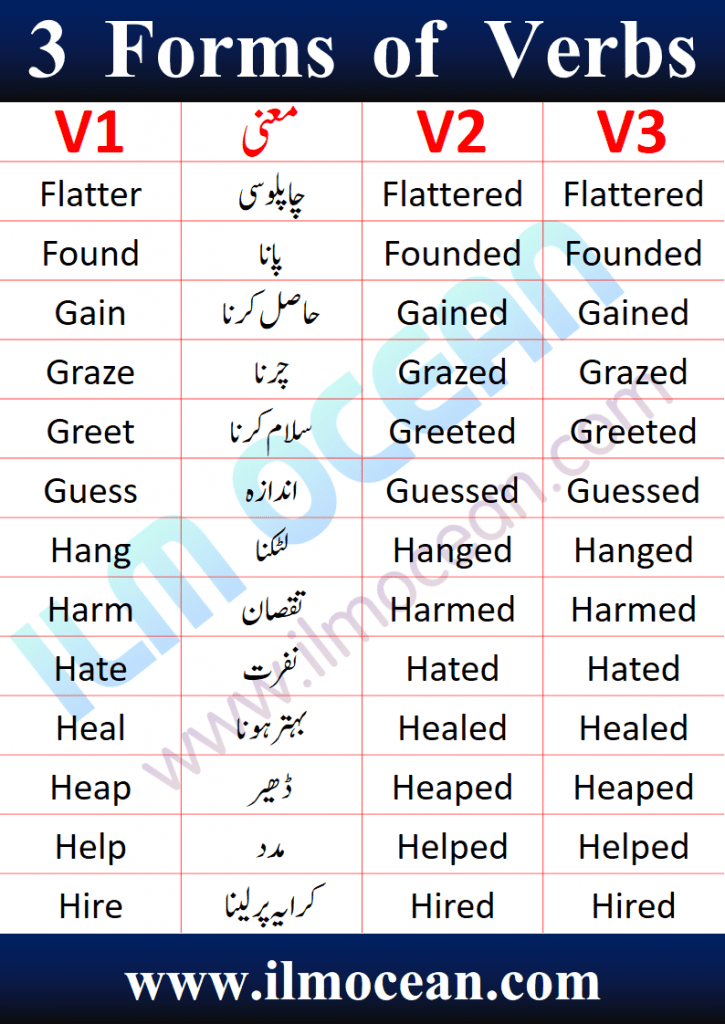 | | | | |
| --- | --- | --- | --- |
| Accept | قبول کرنا | Accepted | Accepted |
| Accuse | الزام لگانا | Accused | Accused |
| Act | عمل کرنا | Acted | Acted |
| Add | جمع کرنا | Added | Added |
| Admire | تعریف کرنا | Admired | Admired |
| Admit | تسلیم کرنا | admitted | Admitted |
| Adopt | اختیار کرنا | Adopted | Adopted |
| Advise | نصیحت | Advised | Advised |
| Agree | متفق ہونا | Agreed | Agreed |
| Aid | مدد | Aided | Aided |
| Allow | اجازت دینا | Allowed | Allowed |
| Answer | جواب دینا | Answered | Answered |
| Apply | لاگو کرنا | Applied | Applied |
| Arrest | گرفتار کرنا | Arrested | Arrested |
| Ask | پوچھنا | Asked | Asked |
| Attack | حملہ کرنا | attacked | Attacked |
| Beg | بھیک مانگنا | Begged | Begged |
| Behave | برتاؤ | Behaved | Behaved |
| Believe | یقین | Believed | Believed |
| Belong | تعلق | Belong | Belong |
| Bet | شرط | Bet | Bet |
| Blame | الزام | Blamed | Blamed |
| Borrow | ادھار | Borrowed | Borrowed |
| Burst | پھٹنا | Burst | Burst |
| Bury | دفنانا | buried | Buried |
| Call | بلانا | Called | called |
| Cast | ذات پات | Cast | Cast |
| Clap | تالی | Clapped | Clapped |
| Climb | چڑھنا | Climbed | Climbed |
| Connect | ملانا | connected | Connected |
| Consist | مشتمل ہونا | Consisted | Consisted |
| Copy | نقل | Copied | Copied |
| Cost | قیمت | Cost | Cost |
| Create | بنانا | Created | Created |
| Crush | توڑنا | Crushed | Crushed |
| Cure | علاج | Cured | Cured |
| Cut | کاٹنا | Cut | Cut |
| Dare | ہمت | Dared | Dared |
| Defeat | شکست | Defeated | Defeated |
| Describe | بیان | Described | Described |
| Destroy | تباہ کرنا | Destroyed | Destroyed |
| Discover | دریافت | Discovered | Discovered |
| Discuss | بات چیت | Discussed | Discussed |
| Dive | ڈبکی | Dived | Dived |
| Drown | ڈوبنا | Drowned | Drowned |
| Earn | کمانا | Earned | Earned |
| Educate | تعلیم یافتہ | Educated | Educated |
| Employ | ملازمت کرنا | Employed | Employed |
| Enlarge | بڑا کرنا | Enlarged | Enlarged |
| Enter | داخل ہونا | Entered | Entered |
| Finish | ختم کرنا | Finished | Finished |
| Flash | فلیش | Flashed | Flashed |
| Flatter | چاپلوسی | Flattered | Flattered |
| Found | پانا | Founded | Founded |
| Gain | حاصل کرنا | Gained | Gained |
| Graze | چرنا | Grazed | Grazed |
| Greet | سلام کرنا | Greeted | Greeted |
| Guess | اندازہ | Guessed | Guessed |
| Hang | لٹکنا | Hanged | Hanged |
| Harm | تقصان | Harmed | Harmed |
| Hate | نفرت | Hated | Hated |
| Heal | بہتر ہونا | Healed | Healed |
| Heap | ڈھیر | Heaped | Heaped |
| Help | مدد | Helped | Helped |
| Hire | کرایہ پر لینا | Hired | Hired |
| Hit | مارنا | Hit | Hit |
| Hunt | شکار | Hunted | Hunted |
| Hurt | دکھ | Hurt | Hurt |
| Impress | متاثر | Impressed | Impressed |
| Improve | بہتری لانا | Improved | Improved |
| Increase | بڑھانا | Increased | Increased |
| Inform | اطلاع دینا | Informed | Informed |
| Injure | زخمی ہونا | Injured | Injured |
| Inspect | تفتیش کرنا | Inspected | Inspected |
| Invent | ایجاد کرنا | Invented | Invented |
| Invite | مدعو کرنا | Invited | Invited |
| Involve | شامل | Involved | Involved |
| Irrigate | سیراب کرنا | Irrigated | Irrigated |
| Join | ملانا | Joined | Joined |
| Joke | مذاق کرنا | Joked | Joked |
| Kick | لات مارنا | kicked | Kicked |
| Knit | بُننا | Knitted | Knitted |
| Knock | دستک دینا | Knocked | Knocked |
| Lay | لیٹنا | Laid | Laid |
| Lead | سربراہی | Led | Led |
| Leap | چھلانگ | Leapt | Leapt |
| Learn | سیکھنا | Learnt | Learnt |
| Leave | چھوڑنا | Left | Left |
| Let | فرض کرنا | Let | Let |
| Level | برابر | Leveled | Leveled |
| Lick | چاٹنا | Licked | Licked |
| Lie | جھوت | Lied | Lied |
| Light | لائٹ | Lighted, Lit | Lighted, lit |
| Like | پسند | Liked | liked |
| Listen | سننا | Listened | Listened |
| Load | لادنا | Loaded | Loaded |
| Lock | مقفل | Locked | Locked |
| Loosen | ڈھیلا کرنا | Loosened | Loosened |
| Lose | ڈھیلا | Lost | Lost |
| Make | بنانا | Made | Made |
| March | مارچ | Marched | Marched |
| Mean | متوسط | Meant | Meant |
| Measure | ماپنا | Measured | Measured |
| Melt | پگھلنا | Melted | Melted |
| Mix | مکس | Mixed | Mixed |
| Obey | تعمیل | Obeyed | Obeyed |
| Object | اعتراض | Object | Object |
| Occupy | قبضہ کرنا | Occupied | Occupied |
| Offer | پیشکش | Offered | Offered |
| Operate | چلانا | Operated | Operated |
| Oppose | مخالفت | Opposed | Opposed |
| Pack | باندھنا | Packed | Packed |
| Pass | گزرنا | Passed | Passed |
| Pay | ادا کرنا | Paid | Paid |
| Pay | ادا | Paid | Paid |
| Perform | مظاہرہ | Performed | Performed |
| Pick | اٹھانا | Picked | Picked |
| Pluck | توڑنا | Plucked | Plucked |
| Pray | دعا | Prayed | Prayed |
| Preach | تعریف | Preached | Preached |
| Pretend | ظاہر | Pretended | Pretended |
| Print | چھاپنا | Printed | Printed |
| Progress | کارکردگی | Progressed | Progressed |
| Prove | ثابت | Proved | Proved |
| Punish | سزا | Punished | Punished |
| Put | رکھنا | Put | Put |
| Qualify | پاس کرنا | Qualified | Qualified |
| Quarrel | جھگڑا | Quarreled | Quarreled |
| Question | سوال | Questioned | Questioned |
| Reduce | کم | Reduced | Reduced |
| Refuse | منع | Refused | Refused |
| Reject | رد | Rejected | Rejected |
| Remember | یاد | Remembered | Remembered |
| Remind | یاد دلانا | Reminded | Reminded |
| Rescue | حفاظت | Rescued | Rescued |
| Resign | استعفی | Resigned | Resigned |
| Roar | دھاڑنا | Roared | Roared |
| Rob | لوٹنا | Robbed | Robbed |
| Satisfy | مطمئن | Satisfied | Satisfied |
| Say | کہنا | Said | said |
| Seek | امید | Sought | Sought |
| Sell | فروخت | Sold | Sold |
| Send | بھیجنا | Sent | Sent |
| Set | سیٹ | Set | Set |
| Sew | سلائی | Sewed | Sewed |
| Shed | بہنا | Shed | Shed |
| Shoe | جوتا | Shoed | Shoed |
| Shout | چلانا | Shouted | Shouted |
| Show | ظاہر | Showed | Showed |
| Spend | خرچ | Spent | Spent |
| Spill | پھیلنا | Spilt | Spilt |
| Spread | پھیلانا | Spread | Spread |
| Stock | ذخیرہ | Stocked | Stocked |
| Sweat | پسینہ | Sweat | Sweat |
| Sweep | جھاڑو | Swept | Swept |
| Swell | سوجنا | Swelled | Swelled |
| Talk | بات | Talked | Talked |
| Teach | پڑھانا | Taught | Taught |
| Tell | بتانا | Told | Told |
| Test | چیک | Tested | Tested |
| Think | سوچنا | Thought | Thought |
| Thrust | یقین | Thrust | Thrust |
| Torture | اذیت | Tortured | Tortured |
| Treat | سلوک | Treated | treated |
| Tremble | کانپنا | Trembled | Trembled |
| Trouble | مشکل | Troubled | Troubled |
| trust | اعتبار | Trusted | Trusted |
| Try | کوشش | Tried | Tried |
| Unite | متحد | United | United |
| Vote | ووٹ | Voted | Voted |
| Wander | گھومنا پھرنا | Wandered | Wandered |
| Want | چاہنا | Wanted | Wanted |
| Waste | ضائع | Wasted | Wasted |
| Watch | دیکھنا | Watched | Watched |
| Weep | رونا | Wept | Wept |
| Weigh | وزن کرنا | Weighed | Weighed |
| Work | کام | Worked | worked |