English speaking is really important these days.  You can speak English with these 45 Urdu to English Sentences for anger. English is considered the official language in almost all the countries of the world. We have come up with 45 Urdu to English Sentences for anger that you can use in your daily life conversation. This collection of sentences which are used in anger. Whenever someone is angry with others, he can use these angry sentences in his conversation. If you will use these English sentences in your conversation you will be good at your speaking.
50 English to Urdu Sentences to use in Anger, Rage Sentences! 50 Anger-Inspiring English Phrases with Urdu Translation, you can learn commonly used English expressions when you're angry. When you're furious with someone, this important lesson will help you speak English fluently.
You will learn 50 English sentences with Urdu translations that you can use in Anger in this session. These phrases will make you yell in English. This lesson's PDF can be downloaded at the bottom of the page.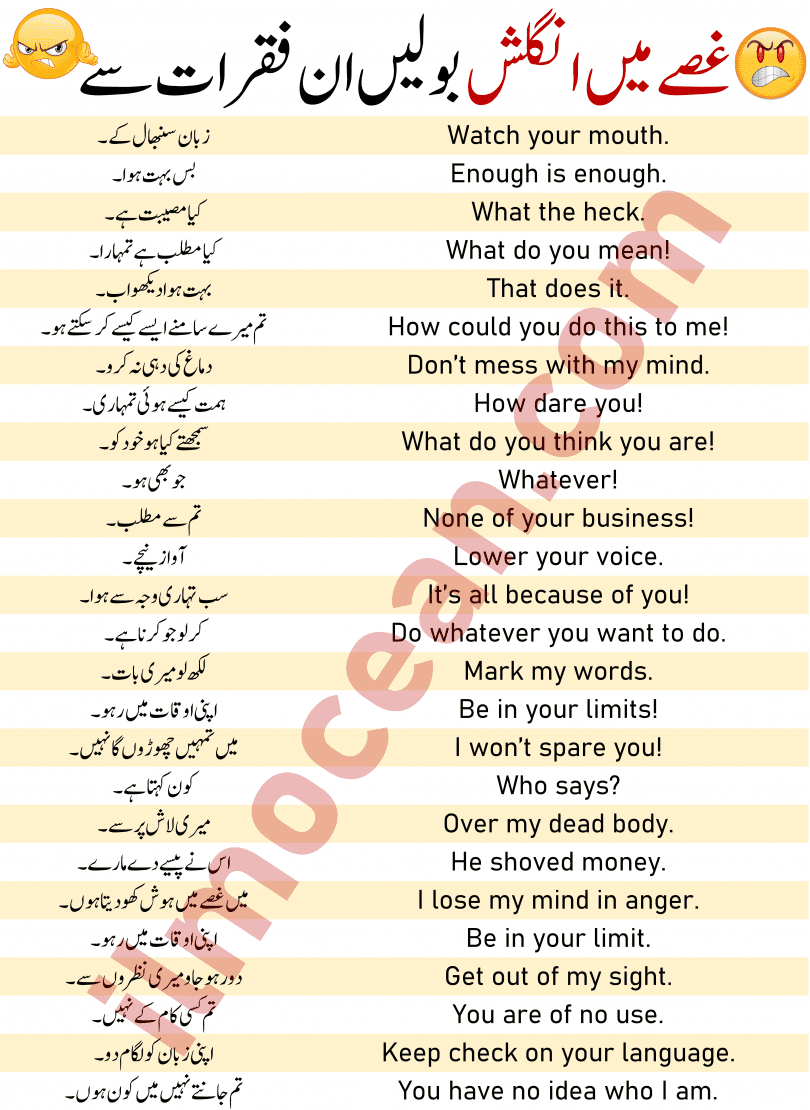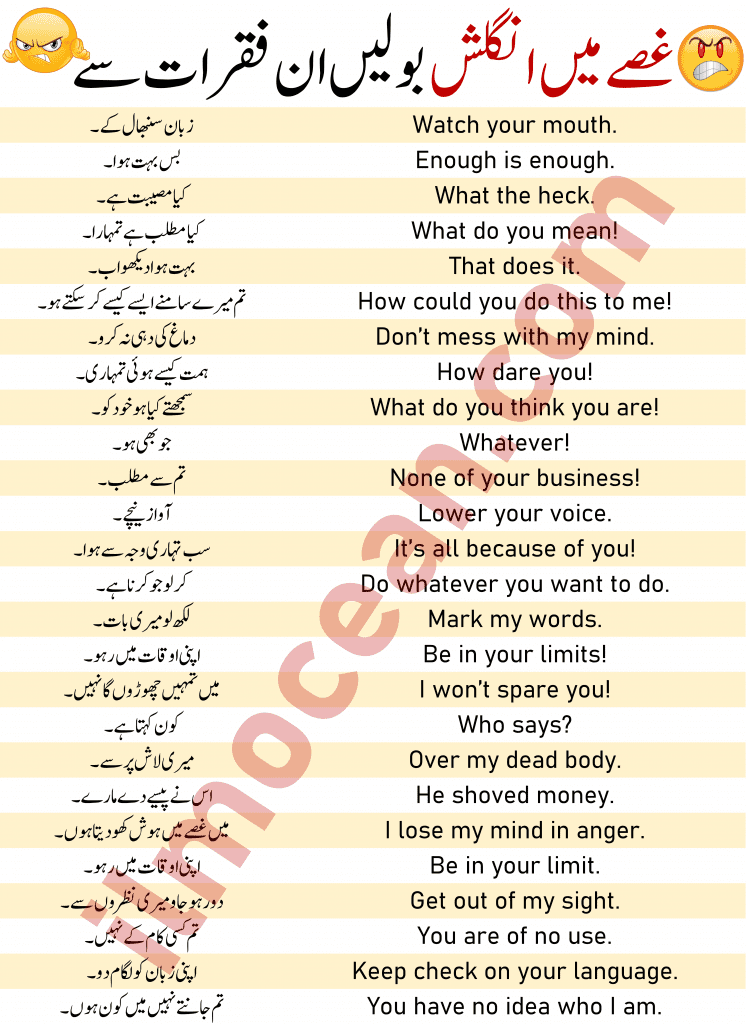 | | |
| --- | --- |
| زبان سنبھال کے۔ | Watch your mouth. |
| بس بہت ہوا۔ | Enough is enough. |
| کیا مصیبت ہے۔ | What the heck. |
| کیا مطلب ہے تمہارا۔ | What do you mean! |
| بہت ہوا دیکھو اب۔ | That does it. |
| تم میرے سامنے ایسے کیسے کر سکتے ہو۔ | How could you do this to me! |
| دماغ کی دہی نہ کرو۔ | Don't mess with my mind. |
| ہمت کیسے ہوئی تمہاری۔ | How dare you! |
| سمجھتے کیا ہو خود کو۔ | What do you think you are! |
| جو بھی ہو۔ | Whatever! |
| تم سے مطلب۔ | None of your business! |
| آواز نیچے۔ | Lower your voice. |
| سب تہاری وجہ سے ہوا۔ | It's all because of you! |
| کر لو جو کرنا ہے۔ | Do whatever you want to do. |
| لکھ لو میری بات۔ | Mark my words. |
| اپنی اوقات میں رہو۔ | Be in your limits! |
| میں تمہیں چھوڑوں گا نہیں۔ | I won't spare you! |
| کون کہتا ہے۔ | Who says? |
| میری لاش پر سے۔ | Over my dead body. |
| اس نے پیسے دے مارے۔ | He shoved money. |
| میں غصے میں ہوش کھو دیتا ہوں۔ | I lose my mind in anger. |
| خاموشی سے بیٹھ جاؤ ورنہ دفع ہوجاؤ۔ | Sit silently otherwise be off from here. |
| دور ہوجاو میری نظروں سے۔ | Get out of my sight. |
| تم کسی کام کے نہیں۔ | You are of no use. |
| اپنی زبان کو لگام دو۔ | Keep check on your language. |
| تم غلط بندے سے پنگا لے رہے ہو۔ | You are messing with the wrong person. |
| اپنی اوقات میں رہو۔ | Be in your limit. |
| تم اتنے لاپراہ کیسے ہو۔ | How could you be so careless? |
| میراکوئی لینا دینا نہیں۔ | I have nothing to do with this. |
| تم جانتے نہیں میں کون ہوں۔ | You have no idea who I am. |
| گندی عادتیں چھوڑ دو۔ | Give up the bad habits. |
| وہ ادھر ہی دیکھ رہا ہے۔ | He is looking over here. |
| تم ہمیشہ سے مطلبی رہے ہو۔ | You have always been selfish. |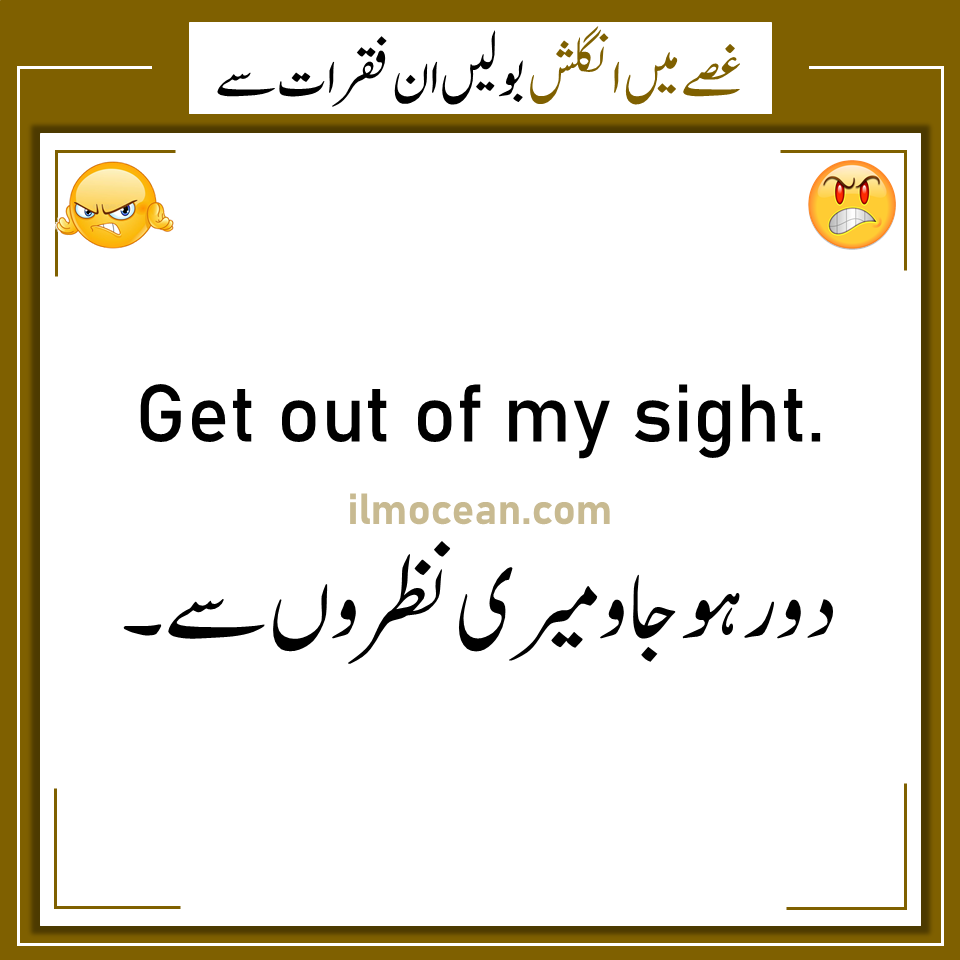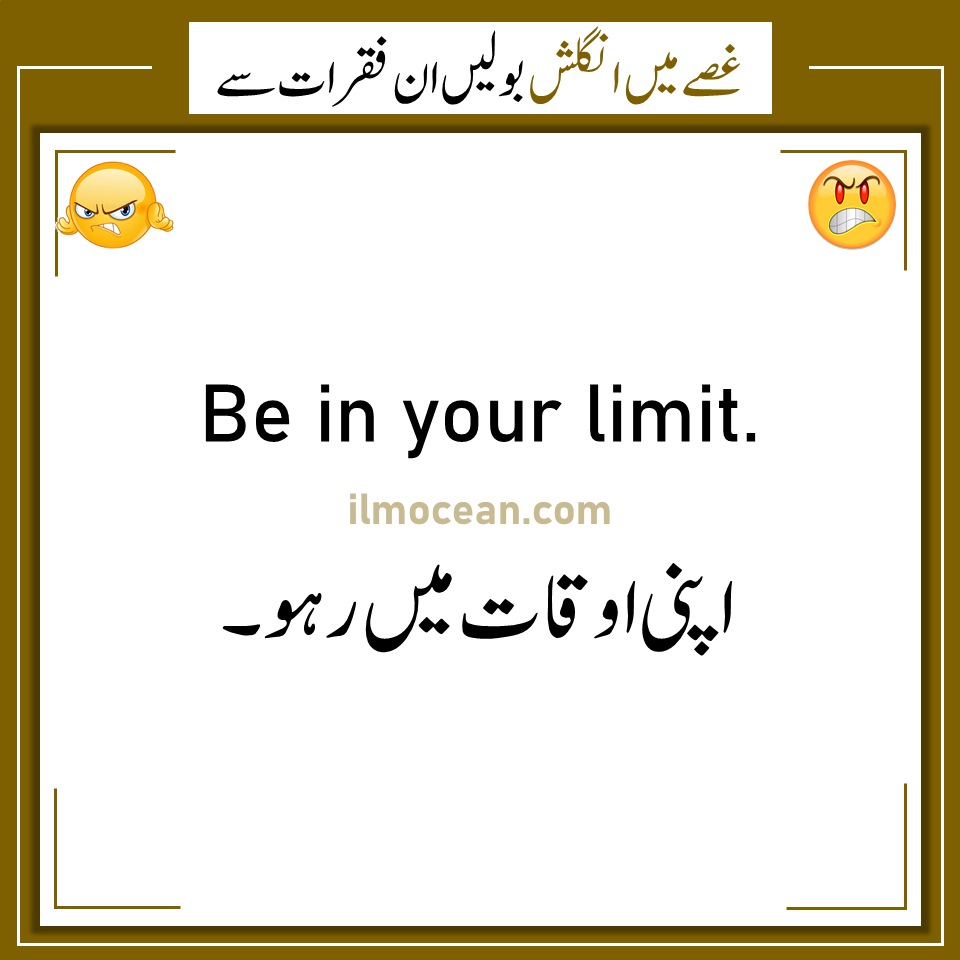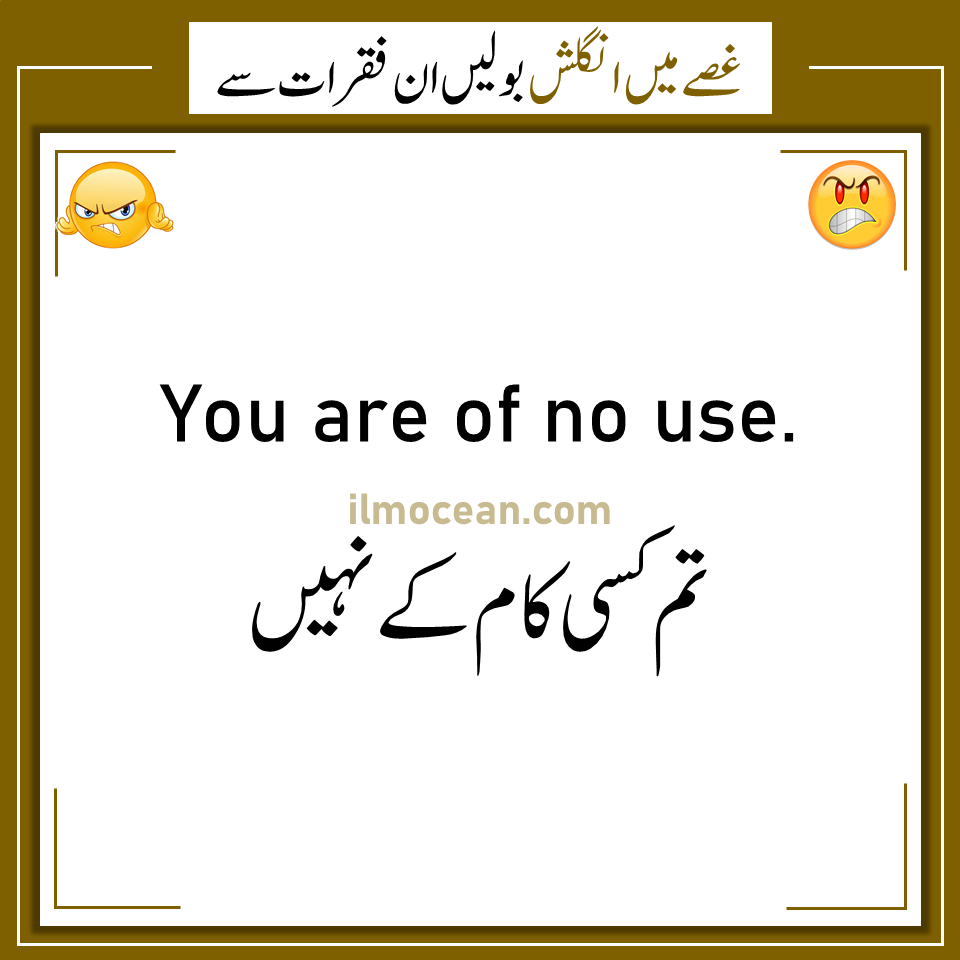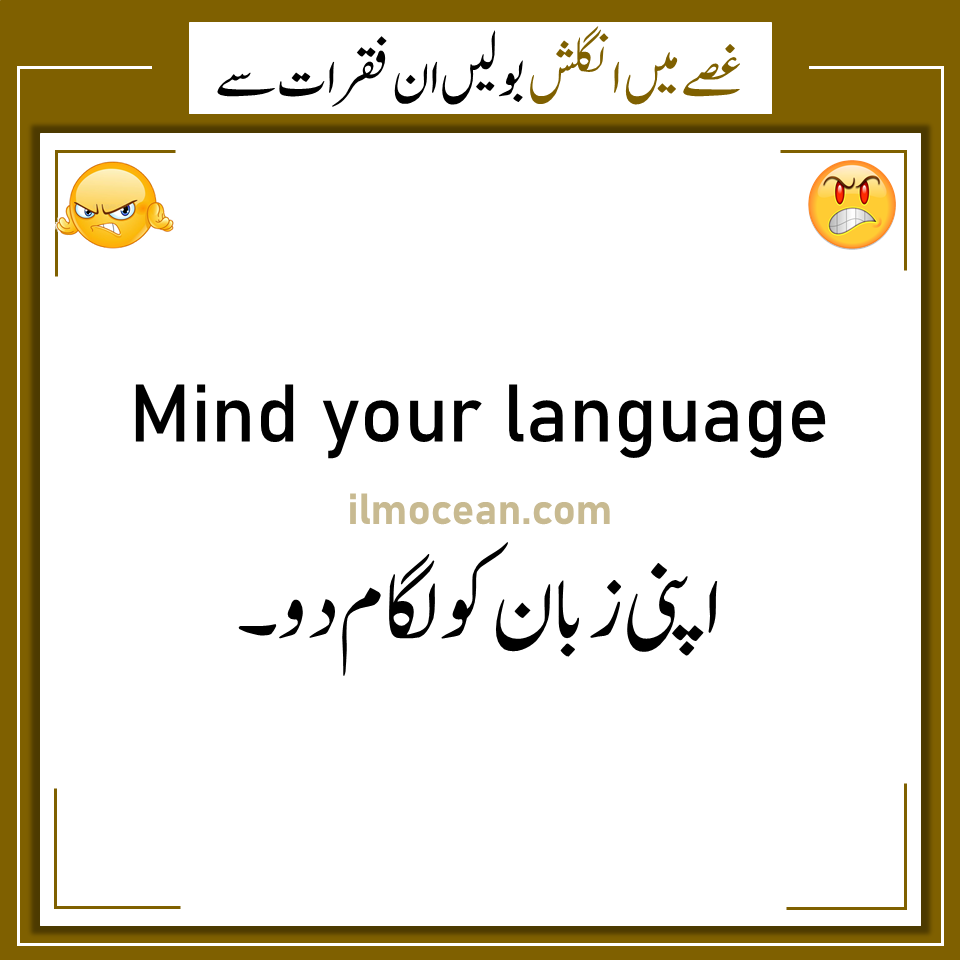 Thank you for reading this blog!